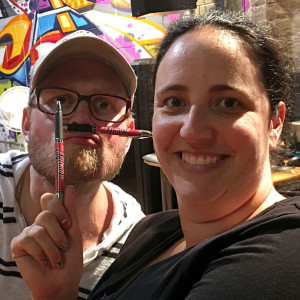 The start of a new year means time to think about the future and typically that means thinking about ourselves.
But what if we thought about others?
The Kain Foundation is one way in which we can lift our focus beyond ourselves and tonight two representatives will try to breathe new hope and interest into a topic that leaves some people jaded – that of charity and goodwill.
We have Danyelle from The Kain Foundation, and former Adelaide Show guest and participant in a Kain Foundation project, Tom Williamson.
Our sponsor this week is Cash And Carry Stores, Rundle Street.
In IS IT NEWS, Nigel's theme is Charity.
Max Martin from iNform Health and Fitness Solutions – gets his Made To Move Minute back on the road, after guest starring last week:
Our SA Drink of the week is Yalumba.
Music is by the Baker Suite
We have an Adelaide Visa Council with two defendants.
David Washington from In Daily is still on annual leave so no Midweek News Wrap, Talk Of The Town.
More details and timecodes below.
[buzzsprout episode='340302′ player='true']
Show notes running sheet by timecode
Looking for something in this episode? We have captured the time marker in the notes below to help you find selected content faster.
TIME
SEGMENT
00:00:00
Outtake
 Tom's wonderful mouth work
00:00:15

Theme
Theme and introduction. Our original theme song in full is here, Adelaidey-hoo.
00:00:00

Talk Of The Town
David Washington, editor of In Daily, gives us a midweek wrap of the news we've been talking about in South Australia this week.
00:02:25
Items Without Notice
Steve's idea of improving the O-bahn underpass/tunnel
00:07:45
SA Drink Of The Week
Yalumba 2012 The Scribbler Cabernet Shiraz. Tasting notes.
00:14:47
Made To Move Minute

Max Martin from iNform Health and Fitness Solutions, Norwood, present a thoughtful minute for pondering more ways and reasons to get moving and improve your health.

This week: Team sports.

00:18:56

Sponsor
Cash and Carry Stores, Rundle Street. See advert at bottom of page.
00:22:27
The Kain C+C Charitable Foundation


The Kain Foundation exists to enrich lives.

While it is a charitable foundation, the secret to its model is its focus in making sure that enrichment flows two ways: it wants to create opportunities for children and youth in need to fulfill their potential AS WELL AS give businesses and their employees the chance to experience projects. And tonight, Danyelle Robson and former participant, Tom Williamson, will hopefully enrich our minds with their stories.

01:21:27
Is It News?

The news history quiz with Nigel Dobson-Keeffe.
01:40:22
Adelaide Visa Council

Vanessa Marouso (@vanessamarouso) REJECTED
21/12/2015, 4:38 AM
@Emily_Paquette I am caught in boring old adelaide ~
I hope you are ok. It sounds as though you are in a very interesting state of mindnic (@nictendo64)  REJECTED
18/12/2015, 4:32 PM
@diedblonde_ yeah adelaide is incredibly boring, but hopefully i am gonna plan a trip to melbs next year seeing as i love it so much
01:57:20
Musical Pilgrimage

And our song this week, Could I Be Wrong by Baker Suite featuring Paul Grabowsky on piano, recommended by our musical curator, Adrian Miller, from Radio Adelaide's Monday night program, Songcatcher.
02:08:41
Outtake

 Things to do with vegetables
Here is this week's preview video:
This week's sponsor
Cash and Carry Stores, Rundle Street
Screaming Jets Better – we mention this in the podcast
Footage of Tom in Uganda
SFX: Throughout the podcast we use free sfx from freesfx.co.uk for the harp, the visa stamp, the silent movie music, the stylus, the radio signal sfx, the wine pouring and cork pulling sfx, and the swooshes around Siri.