Tonight, we will send off the month of Capril by discussing how people live with depression, how people can die from depression and how we might all just go beyond the catchy taglines and actually take this illness seriously.
Our guests are Alisson and Peter Marsland, parents of the late, Richard Marsland, who took his own life in 2008 after a heightening struggle with depression.
We also have Tom Williams, advertising and social media expert, entrusting us with his personal story of discovering and dealing with mental illness.
Other 'uncloaking depression for Capril in Adelaide' highlights
Wine tonight – a drop from Peter and Alisson's Gawler River vineyard, Marsie Wines.
For the Made To Move Minute, Max Martin … continues his series on pain and diagnosis.
In IS IT NEWS, Nigel quizzes us on our knowledge of …  strange animal deaths in SA.
The Adelaide Visa Council returns with a young YouTuber on the stand.
And in musical pilgrimage we a track from the new EP by local outfit, Conchillia.
Show notes running sheet by timecode
Looking for something in this episode? We have captured the time marker in the notes below to help you find selected content faster.
TIME
SEGMENT
00:00:00
Outtake
Warning (by John Murch). Carbon footprint of this program
00:00:51

Theme
Theme and introduction. Our original theme song in full is here, Adelaidey-hoo.
00:00:00

Talk Of The Town
DAVID WAS ON LEAVE THIS WEEK. David Washington, editor of In Daily, gives us a midweek wrap of the news we've been talking about in South Australia this week.
00:00:00
Items Without Notice
None this week.
00:03:01
SA Drink Of The Week
Marsie Wines 2014 Shiraz Gawler River … Tasting notes.
00:17:07
Made To Move Minute

Max Martin from iNform Health and Fitness Solutions, Norwood, present a thoughtful minute for pondering more ways and reasons to get moving and improve your health.

This week: Part Three of the series on pain and diagnosis.

00:22:02
Alisson Marsland and Tom Williamson


Capril is an annual event to raise awareness of depression and other mental illness.

In many ways, it is a perpetual memorial to Richard Marsland, a South Australian-born radio and television personality, comedian and script writer, who took his own life in 2008 after a long struggle with depression.

Local Capril coordinator, John Murch, whose voice you heard at the start of this episode, has recently interviewed Richard's parents for Radio Adelaide and you can hear that full interview via a link on this episode's show notes: Marsland parents speak about Richard.

Tonight, for our focus on Capril, we have two people with very different stories and experiences to share, as they help guide us through the topics of depression and suicide. Firstly, we have Richard's mum, Alisson Marsland. And we also have local advertising and social media man-about-town, Tom Williamson.

01:35:26
Is It News?

The news history quiz with Nigel Dobson-Keeffe.
01:53:16
Adelaide Visa Council

Kirsty Lane (@kirstyylanee) VISA GRANTED
22/04/2016, 9:50 AM
@bethanyquinnell everyone thinks Adelaide is boring so I can show you the secret beauty that we have ????????
01:57:42
Musical Pilgrimage

And our song this week is Numb by Conchillia, selected by our musical curator Adrian Miller, from Radio Adelaide's Monday night program, Songcatcher.
02:10:20
Outtake

My sister has it
Here is this week's preview video:
Made To Move Minute UNCUT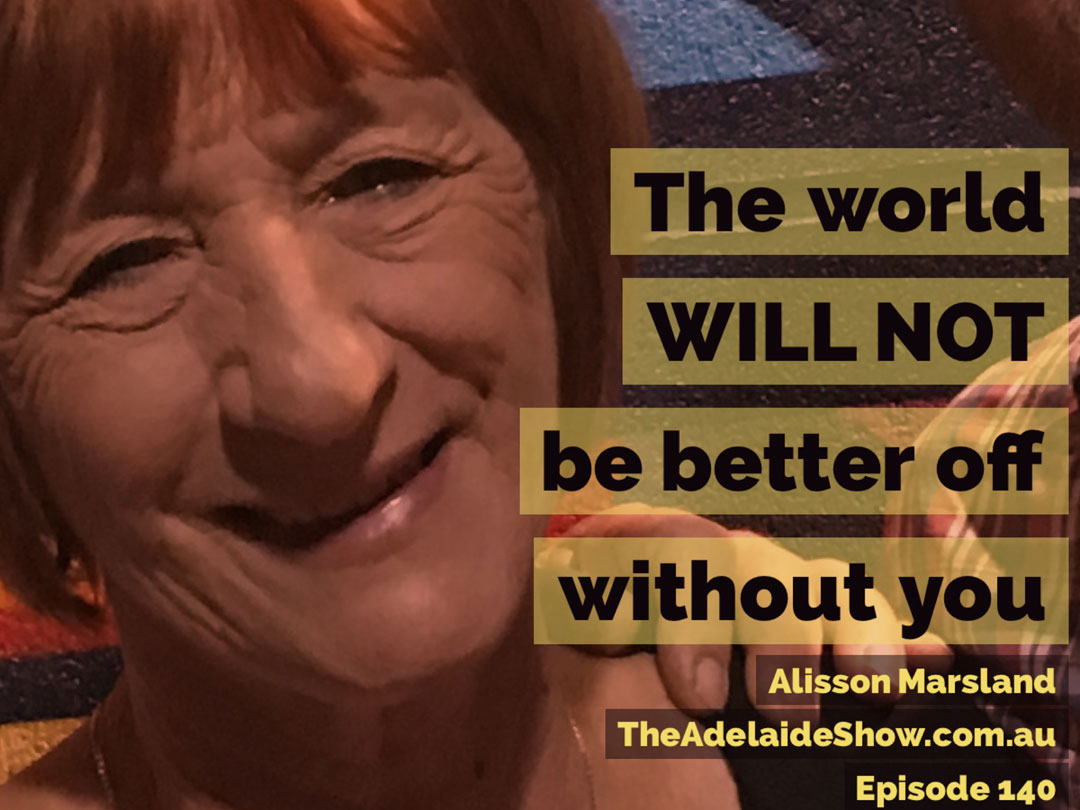 SFX: Throughout the podcast we use free sfx from freesfx.co.uk for the harp, the visa stamp, the silent movie music, the stylus, the radio signal sfx, the wine pouring and cork pulling sfx, and the swooshes around Siri.
Save