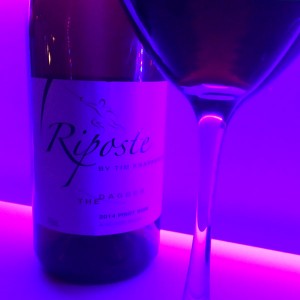 In episode 86, we opened the Tim Knappstein Riposte 2013 Pinot Noir from the Adelaide Hills in the subdued lighting of Tim Pine's film studio cum bachelor pad.
None of the podcast crew would say Pinot was a favourite variety BUT we all enjoyed this confident drop.
Steve got a mouthful of small berries and cherry, Nigel was surprised at the intensity of flavour and special guest, Tim Pine, said if he was married and opened this bottle he'd be sure of 'getting lucky'.
On that note, there is truly a special treat 'for the ladies' who listen to the wine tasting segment this week. Trust me.
To win a bottle, just listen to our tasting before midnight Monday and use the special codeword to go into the draw – full details below.
[buzzsprout episode='263889′ player='true']
The wine tasting starts about 6 minutes in.
Win a bottle of this wine
The Arkaba Hotel has partnered with us so that it can let our fellow wine lovers know you can safely order wine by the glass through their Enomatic System. So, instead of getting a tired glass of wine from a bottle that was opened days ago, which is a dreadful experience for serious wine drinkers, at the Arkaba they can guarantee freshness just like the winemaker intended.
To be in the draw to win this week's wine, you only have TWO things to do:
1. Make sure you're on our In Crowd mailing list. This little email gets sent every Friday morning with details about the week's show. You can sign up here and once you've signed up you'll be qualified to play any of our competitions for life.
2. Mention the term Knappstein on our Facebook Page, or in a tweet to @TheAdelaideShow, or just email us using that term to [email protected]. Pick whichever one works best for you but do it BEFORE 11.59pm, Monday, April 20, 2015, South Australian time of course, and on Monday we will email the winner with details of how they can collect their wine from The Arkaba.