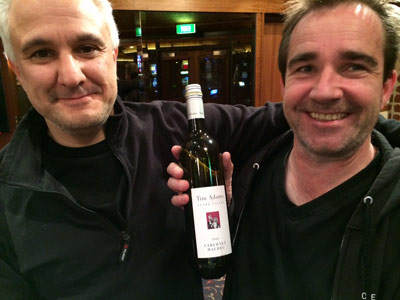 In episode 96, we showed off in front of our North American guest by pulling a wine from deep within the Arkaba Hotel cellar; a 2008 Tim Adams Cabernet Malbec.
Peter was instantly taken by this wine, describing it as enjoyable and sharing his surprise at that reaction because he doesn't normally enjoy Cabernet Sauvignon.
Steve noted that some of the Cabernet traits he was recalling would have been mitigated or softened by the Malbec along with the age.
Nigel was impressed by the impact of seven years on the bottle, creating an elegant wine with muted fruits.
Peter asked Steve to describe what the hint of fruit was that he was tasting and Steve said, 'imagine walking along and catching a glimpse of blueberry out the corner of your eye but when you turn to look at it, it has darted back behind the alleyway and out of sight; that is the experience of this wine.'
You can hear the wine tasting about four minutes in.
[buzzsprout episode='284066′ player='true']
Win a bottle of this wine
The Arkaba Hotel has partnered with us so that it can let our fellow wine lovers know you can safely order wine by the glass through their Enomatic System. So, instead of getting a tired glass of wine from a bottle that was opened days ago, which is a dreadful experience for serious wine drinkers, at the Arkaba they can guarantee freshness just like the winemaker intended.
To be in the draw to win this week's wine, you only have TWO things to do:
1. Make sure you're on our In Crowd mailing list. This little email gets sent every Thursday morning with details about the week's show. You can sign up here and once you've signed up you'll be qualified to play any of our competitions for life.
2. Mention the term Tim Adams on our Facebook Page, or in a tweet to @TheAdelaideShow, or just email us using that term to [email protected]. Pick whichever one works best for you but do it BEFORE 11.59pm, Monday, June 29, 2015, South Australian time of course, and on Monday we will email the winner with details of how they can collect their wine from The Arkaba.